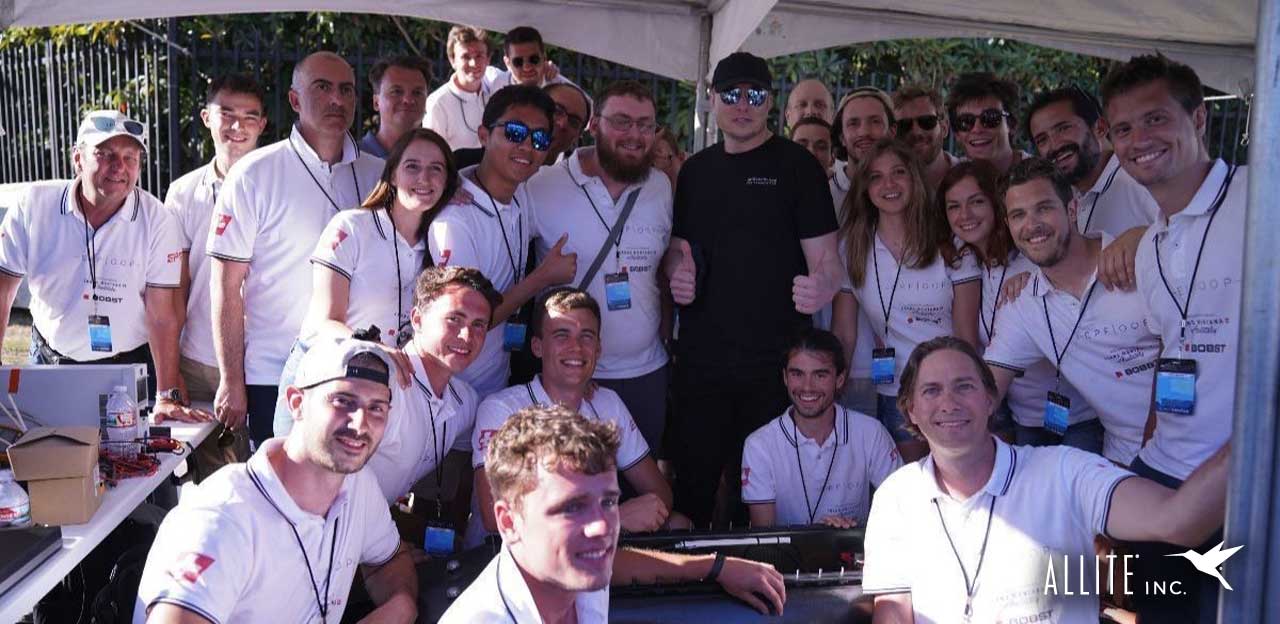 EPFLOOP PLACES FIRST IN SPACEX HYPERLOOP POD COMPETITION USING ULTRA-LIGHT ALLITE® SUPER MAGNESIUMTM COMPONENTS
MIAMISBURG, Ohio (July X, 2019) — ALLITE® Inc., a global all-service provider of the exclusive Super MAGNESIUMTM, is proud to share that its partner EPFLoop finished third in the 2019 SpaceX Hyperloop Pod Competition, held Sunday, July 21, 2019, in Hawthorne, Calif. This is the second year the EPFLoop team has participated in the annual competition following their impressive 3rd place win in 2018. ALLITE began its partnership with EPFLoop in early 2019 after following the team's achievements last year, becoming a major sponsor of the team and providing Super MAGNESIUMTM for new pod designs.
The second-generation EPFLoop pod is named "Bella Lui" and designed by the student-led EPFL team. The new design includes stability plates made from the ALLITE Super Magnesium™, chosen as part of the pod's ultra-light design. In addition, ALLITE's lightweight alloy material was provided for the braking components of the pod to help further reduce weight and improve necessary braking functions. In fact, the reduced weight of the pod was one of the biggest improvements the EPFLoop team was able to make in the 2019 competition, shedding approximately 130kg from the 2018 design.
Without airflow in the testing tube, there is no dissipation of heat when the pod slows down—leading to extreme high temperatures. The ALLITE-supplied brake calipers would help reduce heat buildup to ensure the hyperloop pod does not become damaged.
"We're so proud of the EPFLoop team for their third-place finish in the SpaceX Hyperloop Pod competition," said Morten Kristiansen, Vice President, Products and Marketing of ALLITE Inc. "Our team continues to be impressed and inspired by the EPFLoop students and are excited to support them as they continue to explore the future of transportation."
Each year, the top 20 teams worldwide are invited to the California testing facility for the week-long competition, during which participants get to test their hyperloop pod designs on a mile-long track at speeds of approximately 500 km per hour. The top three teams coming out of the week get to run their pods on the track under vacuum at the final event.
ALLITE Super Magnesium™ is the first material to go-to-market from Ohio-based company ALLITE® Inc. Lighter and stiffer than aluminum, less expensive than carbon fiber and with the lowest carbon footprint of any structural material throughout the value chain, ALLITE Super Magnesium™ is the premier choice for industries, spanning sporting goods, aerospace, automotive and beyond.
More information and sales contact information can be found at www.alliteinc.com. More information about the EPFLoop team and The Bella Lui hyperloop pod, can be found on their website.