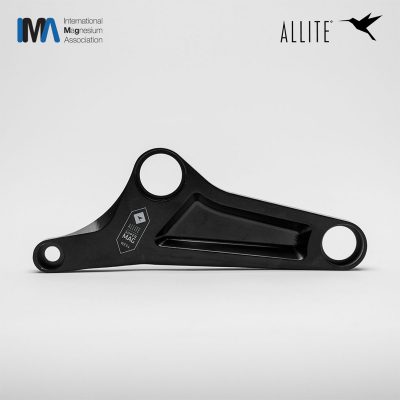 MIAMISBURG, Ohio, May 20, 2019 – ALLITE® Inc., the material science company behind the premium line of branded alloys, ALLITE Super Magnesium™, was awarded the Award of Excellence under the Process category by the International Magnesium Association (IMA). The award recognizes companies that demonstrate outstanding examples of magnesium's use, judged on the merit of innovation, technology, impact, synergies, competitive material displacement and economics. The award was presented to ALLITE during the annual IMA World Magnesium Conference on May 17, 2019 in Budapest, Hungary.
Aiming to improve mechanical properties, plasticity and deformation processing of conventional magnesium alloys, ALLITE has developed two unique rare earth magnesium alloys with high strength, high plasticity and good corrosion resistance. The relationship between the proprietary composition, cooling and extrusion processing technology, and microstructure and mechanical properties of these two alloys – AE81 and ZE62 – made them ideal candidates for the 2019 IMA Award of Excellence.
"All of us at ALLITE are honored to receive the Award of Excellence from the International Magnesium Association and proud to be recognized for our work and commitment to innovation," said Morten Kristiansen, Vice President, Products and Marketing of ALLITE Inc. "Thermomechanical processing, specifically forging of magnesium alloys, has traditionally been challenging due to the poor ductility of conventional magnesium alloys, but we think it holds great potential to create high strength and exceptionally lightweight articles, particularly when the material grain size is kept small during deformation."
ALLITE Super Magnesium is the first material to go-to-market from Ohio-based company ALLITE Inc. Lighter and stiffer than aluminum, less expensive than carbon fiber and with the lowest carbon footprint of any structural material throughout the value chain, ALLITE Super Magnesium is the premier choice for industries, spanning sporting goods, aerospace, automotive and beyond.
For more information and sales contact details.
About ALLITE Inc.
Founded in 2018, ALLITE Inc. is a full-service material sciences organization that develops and manufactures high-performance metal alloys for industries around the globe. They supply proprietary material science consulting, offer raw magnesium ingot, produce semi-fabricated product, including extrusion and sheet/plate, and provide custom engineering, manufacturing, and fabrication on a global scale.
ALLITE Inc. created and produces ALLITE Super Magnesium, a premium alloy that is the lightest of all structural materials and is diversely appealing across vast industries where weight, performance and efficiency are critical. Considered to be the most eco-friendly and sustainable metal in the world, magnesium is 100% recyclable, dissolves naturally leaving no trace, and has widespread natural occurrence with unlimited reserves.
MEDIA CONTACTS:
Molly Crabill, Citizen Relations
molly.crabill@citizenrelations.com
Joey Burke, ALLITE, Inc.
jburke@alliteinc.com